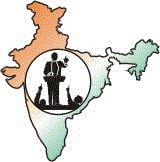 This competition is a quiz programme for the school children to increase their awareness about the distinctive features of our country and culture.
Before the "Bharat Ko Jano" project was taken at the national level,  this  had successfully been implemented  U.P. West Prant for a number of years. In the year 2000,  it was decided to conduct this programme  on  an experimental  basis in all the eight Prants of U.P. state. Encouraged by its success, it was decided to adopt it as an all India Project.
From the year 2001-02 this competition is being held at branch, state and national levels.  During the third all India completion held in 2003-04, for the first time computers were used.  All the questions were displayed on the computers kept in front of the teams as well as the audiences.  
This "Bharat Ko Jano" programme has generated great interest among the students.  Now over 15 lakh students annually participate in this programme. Every year over 2.5 lakh "Bharat Ko Jano" books  are distributed among the school students for this competition.
Online Bharat Ko Jano
Parishad has also launched "Online Bharat Ko Jano" programme for the students of colleges and technical / professional institutes in India or abroad.
भारत को जानो प्रतियोगिता
विद्यार्थियों में भारतीय मूल्यों, भारतीय संस्कारों, भारतीय आस्थाओं तथा भारत की गौरव गाथा के प्रति गौरवपूर्ण भावना के सृजन हेतु परिषद् वर्ष 2001 से राष्ट्रीय स्तर पर भारत को जानो प्रतियोगिता सम्पन्न कर रहा है।
स्वामी विवेकानन्द जी का कथन है कि ''अतीत की नींव पर ही भविष्य की श्रेष्ठताओं का निर्माण होता है।'' सत्य है कि गौरवपूर्ण अतीत से प्राप्त आत्म -गौरव का भाव तथा प्रगतिशील वर्तमान से प्राप्त आत्मविश्वास, हमें उज्जवल भविष्य की ओर अग्रसर करने में सहायक होता है। भारत के इसी गौरवपूर्ण अतीत और प्रगतिशील वर्तमान से संबंधित विभिन्न विषयों की प्रेरक व ज्ञानवर्द्धक जानकारी पर ही आधारित होती है यह, ''भारत को जानो प्रतियोगिता''।
भारत को जानो प्रतियोगिता तीन स्तरों पर, कनिष्ठ (कक्षा 6 से 8) तथा वरिष्ठ (कक्षा 9 से 12) दो वर्गों में होती है। प्रथम स्तर पर देश के सभी प्रान्तों में शाखा स्तर पर दो चरणों में होने वाली लिखित परीक्षा व मौखिक प्रतियोगिता के आधर पर चयनित, कनिष्ठ व वरिष्ठ वर्गों के दो-दो प्रतिभागियों की टीमों को प्रत्येक शाखा द्वारा प्रान्त स्तर पर भेजा जाता है। द्वितीय स्तर में प्रान्त स्तर पर मौखिक प्रश्न मंच द्वारा चयनित दोनों वर्गों की एक-एक सर्वश्रेष्ठ टीम को तृतीय स्तर पर रीजनल स्तर की प्रतियोगिता भेजी जाती है। रीजनल स्तर पर विजेता टीमों को राष्ट्रीय स्तर की प्रतियोगिता में भेजा जाता है, जहाँ टीमों के मध्य रोचक तरीके व आधुनिक इलेक्ट्रॉनिक एवं कम्प्यूटर तकनीक से मौखिक प्रश्नमंच का आयोजन होता है।
भारत को जानो प्रतियोगिता प्रकल्प कुछ ही वर्षों में परिषद् परिवार के साथ-साथ विद्यालयों व आम जनमानस में बहुत ही लोकप्रिय हो चुका है। इस प्रकल्प की लोकप्रियता का ही परिणाम है कि प्रतिवर्ष परिषद् द्वारा हिन्दी व अंग्रेजी में अलग-अलग प्रकाशित 'भारत को जानो' पुस्तक की 2.5 लाख से अधिक प्रतियाँ वितरित होती हैं तथा 15 लाख से अधिक विद्यार्थी इस प्रतियोगिता में भाग लेते हैं।
National Level Programmes held so far

Event
  Year
Junior 
Teams
Senior
Teams
  Total 
  Place
  Prant
1
2001-02
17
16
33
 Delhi   
Delhi North
2
2002-03
20
18
38
 Ajmer    
Rajasthan South
3
2003-04
24
24
48
 Mumbai    
Maharashtra I
4
2004-05
38
35
73
 Delhi   
Delhi North
5
2005-06
23
26
49
 Dhubri
Assam & Meghalaya
6
2006-07
30
35
65
 Jodhpur    
Rajasthan  West
7
2007-08
36
38
74
 Ludhiana
Punjab North
8
2008-09
37
34
71
 Fazilka
Punjab South
9
2009-10
41
38
79
Udaipur
Rajasthan South
10
2010-11
42
43
85
Lucknow
Avadh Pradesh
11
2011-12
44
45
89
Haridwar
Uttrakhand West
12
2012-13
46
41
87
Dewas
Madhya Bharat West
13
2013-14
47
47
94
Bhilara
Rajasthan Central
14
2014-15
49
47
96
Varanasi
Kashi
15
2015-16
48
52
100
Agra
Braj Pradesh
16
2016-17
51
47
98
Sriganganagar
Rajasthan North
17
2017-18
7 Region
Teams
Mumbai
Mumbai
18
2018-19
7 Region
Teams
Bhilwara
Rajasthan Central
19
2019-20
7 Region
Teams
Bhubneswar
Orissa
20
2020-21
7 Region
Teams

On vertual mode
Hosted by Brahmavart
21
2021-22
10 Region
Teams
Online
22
2022-23
9 Region
Teams
Noida
UP West