Divyang Sahayata Kendra: Patna

Bharat Vikas Parishad Punarvas Kendra & Sanjay Anand Viklang Hospital & Research Centre, Pahari, Patna-Gaya National Highway (Masaurhi Road),  P.O. Gulzarbagh, Patna-800007 (Bihar); Phone: 0612-6560186; email: bvviklangnyas@gmail.com; bkjain0001@gmail.com 
Established                                      17 December, 1999
Infrastucture  
          Own Building                         Three storey  5,600 sq. ft.
          Employees                             16 
          Mobile Vans                           Two   

Specialty of the Centre   
Super Specialty Centre for Prosthetic & Orthotics as well as corrective and innovative surgery for O.H. Group, Orthopaedically Handicapped surgery Unit, Physiotherapy Centre with state-of-the-art facilities.
One floor costing Rs. 40 lacs (approx) has been erected for patientsward with capacity of 40-45 patients. It was inaugurated by Shri Mohan Bhagwat Ji during the month of February. 2018.
World latest technology was introduced in the Centre a cost of Rs. one crore. This facility was inaugurated by Sri Thawarchand Gehlot Minister of Social Justice & Empowerment & Sri Ravi Shankar Prasad, Minister of Law and Justice & IT in December, 2016.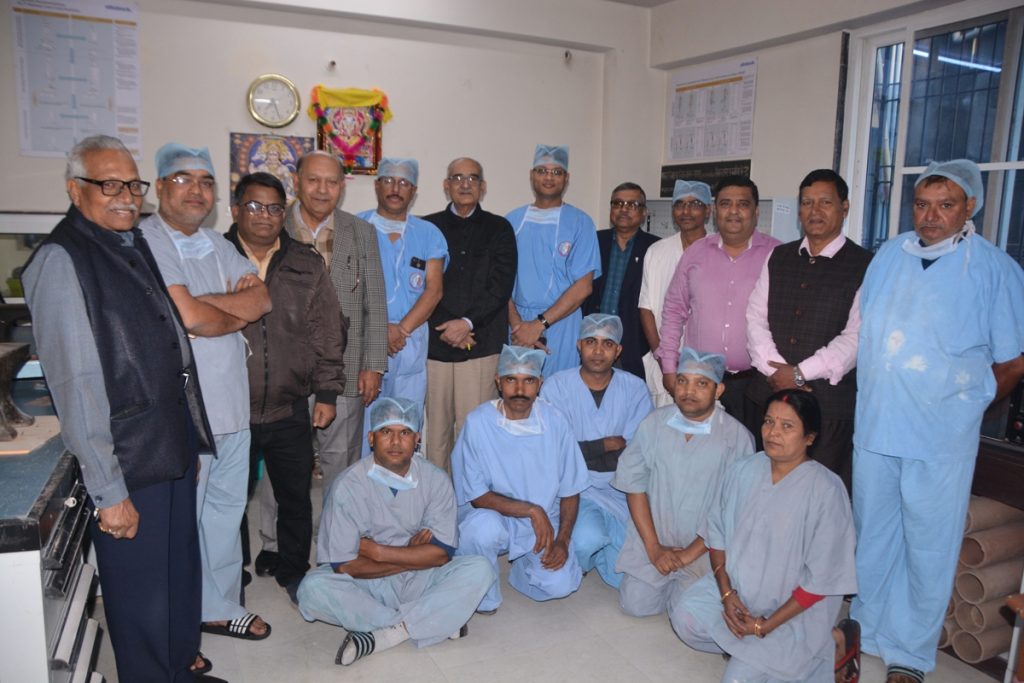 Doctors and Paramedical Staff at the Kendra
Artificial Limbs provided by the Kendra
| | Divyang  Sahayata Kendra Patna | Till Mar'19 | 2019-20 | Total |
| --- | --- | --- | --- | --- |
| (a) | At the Kendra itself | 31,598 | 2,390 | 33,988 |
| (b) | At camps organised by BVP  branches                                                                         | 326 | 0 | 326 |
| (c) | At camps organised by organisations  other than BVP | 326 | 0 | 326 |
| | Total | 32,250 | 2,390 | 34,640 |
| | Polio & Corrective Surgery | 8,702 | 300 | 9,002 |
| | Neurotherapy | 2,122 | 902 | 3,024 |
Legacy of Sanjay Anand : Sanjay Anand Foundation
Sanjay Anand, son of benevolent parents Sri Sunil Anand & Smt. Anupama Anand met a fatal accident on May 10, 1995. Sanjay's parents made a courageous decision, during the time of most painful tragedy, to donate all the Sanja's organs. Sanjay was truly ahead of his time. He lived in this world with his heart of God and his hands to work. Sanjay still lives & continue to live in the hearts & bodies of these children and individuals who were benefitted by the worthy donation of the vital body organs and tissues.   
His parents donated his heart valves, veins, arteries, skin, complete bones, eyes etc. According to Dr. Evangelist of Bone Bank (New York): 
     (a) 200 children with spinal deformities, who never walked before, started walking because of bone grafting.
     (b) Two persons were blessed with vision with Sanjay's eyes.
     (c) A 20 year old girl who suffered 80% burn was saved with Sanjay's skin.
     (d) His heart valves gave a new lease of life to young ailing persons. 
In memory of late Sanjay Anand, a Charitable Trust – The Sanjay Anand Foundation has been set up with the primary objective of treatment & surgery. The Legacy of benevolence and service goes on. Sanjay's Legacy has no beginning and no ending.  Swami Vivekanand's message of service : "They only live, who live for others" has, thus, been truly reflected in the legacy.
Contacts: Shri B.K. Jain, General Secretary; Mob: 93349-53450, email: bkjain0001@gmail.com