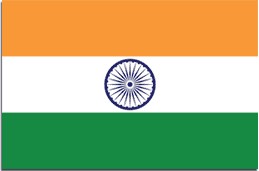 All functions of Bharat Vikas Parishad conclude  with collective singing of Jana-gana-mana  (National Anthem). 

The song Jana-gana-mana, composed originally in Bengali by Rabindranath Tagore, was adopted in its Hindi version by the Constituent Assembly as the National Anthem of India on 24 January 1950.  It was first sung on 27 December 1911 at the Calcutta Session of the Indian National Congress. 
This poem is included in Rabindranath's book "Geetanjali" which was translated to English and called, in literal translation, "Song Offerings". Rabindranath received the Nobel Prize for Literature in 1913 for this book.
The complete song consists of five stanzas. The first stanza constitutes the full version of the National Anthem. A formal rendition of the national anthem takes approximately 52 seconds.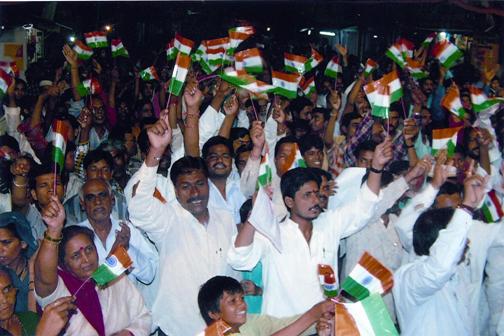 राष्ट्र – गान
जन – गण – मन – अधिनायक, जय हे
भारत –  भाग्य – विधाता।
पंजाब – सिन्ध –  गुजरात – मराठा
द्राविड़ – उत्कल – बंग
विन्ध्य – हिमाचल – यमुना – गंगा
उच्छल जलधि तरंग।
तव शुभ नामे जागे,
तव शुभ आशिष मागे,
गाहे तव जय गाथा,
जन – गण – मंगल- दायक जय हे
भारत – भाग्य – विधाता।
जय हे,  जय हे,  जय हे,
जय  जय  जय,  जय हे।
Jana-gana-mana-adhinayaka, jaya hey 
Bharata-bhagya-vidhata. 
Punjab-Sindh-Gujarat-Maratha 
Dravida-Utkala-Banga 
Vindhya-Himachala-Yamuna-Ganga 
Uchchala-Jaladhi-taranga. 
Tava shubha name jage, 
Tava shubha asisa mange, 
Gahe tava jaya gatha, 
Jana-gana-mangala-dayaka jaya hey 
Bharata-bhagya-vidhata. 
Jaya he, jaya he, jaya hey, 
Jaya jaya jaya, jaya hey! 
The following is Rabindranath Tagore's English rendering of the National Anthem: 
Thou art the ruler of the minds of all people, 
dispenser of India's destiny.

Thy name rouses the hearts of Punjab, Sind, 
Gujarat and Maratha, 
Of the Dravida and Orissa and Bengal; 

It echoes in the hills of the Vindhyas and Himalayas,
mingles in the music of Jamuna and Ganges and is 
chanted by the waves of the Indian Sea. 

They pray for thy blessings and sing thy praise.
The saving of all people waits in thy hand,
thou dispenser of India's destiny. 

Victory, victory, victory to thee.
Full Text of the Song in Bengali:
Jano Gano Mano Adhinaayako Jayo Hey
Bhaarato Bhaagyo Bidhaataa 
Panjaabo Sindhu Gujaraato Maraathaa
Draabirho Utkalo Bango
Bindhyo Himaachalo Jamunaa Gangaa
Uchchhalo Jalodhi Tarango
Tabo Shubho Naamey Jaagey
Tabo Shubho Aashisho Maagey
Gaahey Tabo Jayogaathaa 
Jano Gano Mangalo Daayako
Jayo Hey Bhaarato Bhaagyo Bidhaataa 
Jayo Hey, Jayo Hey, Jayo Hey,
Jayo Jayo Jayo Jayo Hey 
(2) 
Aharaho Tabo Awhbaano Prachaarito
Shuni Tabo Udaaro Baani
Hindu Bauddho Shikho Jaino
Parashiko Musholmaano Christaani 
Purabo Pashchimo Aashey
Tabo Singhaasano Paashey
Premohaaro Hawye Gaanthaa 
Jano Gano Oikyo Bidhaayako Jayo Hey
Bhaarato Bhaagyo Bidhaataa
Jayo Hey, Jayo Hey, Jayo Hey,
Jayo Jayo Jayo, Jayo Hey 
(3) 
Patano Abhyudayo Bandhuro Panthaa
Jugo Jugo Dhaabito Jaatri
Hey Chiro Saarothi, Tabo Ratha Chakrey
Mukharito Patho Dino Raatri 
Daaruno Biplabo Maajhey
Tabo Shankhodhwoni Bajey
Sankato Duhkho Traataa 
Jano Gano Patho Parichaayako
Jayo Hey Bhaarato Bhaagyo Bidhaataa
Jayo Hey, Jayo Hey, Jayo Hey,
Jayo Jayo Jayo, Jayo Hey 
(4) 
Ghoro Timiro Ghono Nibiro
Nishithey Pirhito Murchhito Deshey
Jagrato Chhilo Tabo Abichalo Mangalo
Nato Nayoney Animeshey 
Duhswapney Aatankey
Rakkhaa Koriley Ankey
Snehamoyi Tumi Maataa 
Jano Gano Duhkho Trayako
Jayo Hey Bhaarato Bhaagyo Bidhaataa
Jayo Hey, Jayo Hey, Jayo Hey,
Jayo Jayo Jayo, Jayo Hey 
(5) 
Raatri Prabhatilo Udilo Rabichhabi
Purbo Udayo Giri Bhaaley
Gaahey Bihangamo Punyo Samirano
Nabo Jibano Rasho Dhaley 
Tabo Karunaaruno Ragey
Nidrito Bhaarato Jagey 
Jayo Jayo Jayo Hey, Jayo Rajeshwaro
Bhaarato Bhaagyo Bidhaataa
Jayo Hey, Jayo Hey, Jayo Hey,
Jayo Jayo Jayo, Jayo Hey