Parishad's nationwide blood donation drive inaugurated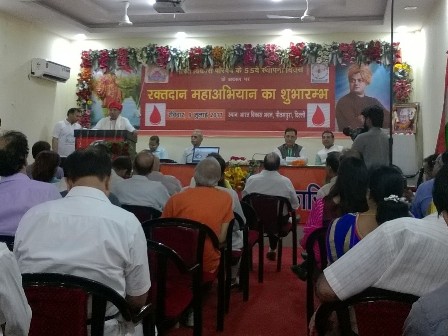 Shri Arjun Ram Meghwal, Union Finance and Corporate Affairs Minister inaugurated Parishad's nationwide blood donation drive at a function held at BVP Bhawan in Delhi on the 9th July, 2017 – the day Bharat Vikas Parishad was established 54 years ago in 1963. A website was also launched for registering voluntary blood donors.
Bharat Vikas Parishad's over 1,360 branches cover all states of India including Northeastern states of Manipur and Tripura.
These branches will be organising blood donation camps and donor registration programme throughout the year.  Parishad aims to collect more than 1 lakh units of blood in one year and create a voluntary blood donors data base for more than 5 lakh donors to meet needs of defence and paramilitary forces and others in need of blood in Government Hospitals.
Blood Donation Drive: A cause for service to the humanity
Bharat Vikas Parishad is a socio-cultural service organization. Established in 1963 with a view to serve the mankind, it is inspired by the thoughts of Swami Vivekanand. Parishad has been blessed with the active participation of Lala Hans Raj Gupta, Dr. L.M. Singhvi, Justice H.R. Khanna, Justice Rama Jois and Justice D.R. Dhanuka  and Justice V.S. Kokje as its National Presidents. As on date it has a nation-wide infrastructure in 360 districts, 1350 branches and 61,000 members.
Parishad is trying to infuse the sanskar of Indian Culture among the students through various programmes such as Guru Vandan Chhatra Abhinandan, Bharat Ko Jano quiz competitions and National Group Song Competitions from branch level to prant level and then to national level. Parishad also organizes Bal Sanskar Shivirs to promote the feeling of coexistence, co-operation and sharing among the youths.
Parishad is serving the society through assistance to physically challenged and their rehabilitation, medical camps, aid to needy, mass marriages, eye camps and eye donations, computer and tailoring training centres throughout the country. Having its own 74 Trusts and Societies, the Parishad is  providing medical and path lab facilities through its various centres such as Chandigarh Diagnostic Centre, BVP Hospital Kota, BVP Viklang Centre Patna and many others. Parishad is operating about 60 path labs, approx. 200 ambulances and 1600 service projects throughout the country. 
Blood Donation Drive: 
In view of the above mentioned infrastructure and service projects, national leadership has now launched a nationwide blood donation derive. It will start from 9-10 July 2017 and continue the whole year. It aims to collect more than 1 lakh unit of blood in one year and create a voluntary blood donors data base for more than 5 lakh donors. Parishad is planning to contact Health Ministry to provide medical assistance for blood donation camps. The main aim is to create blood donation awareness among students of higher education, vocational education, medical and management institutions as well as social, cultural and professional organizations as well as NSS, NCC and NYK etc. through publicity in print and electronic media. Corporate houses and media houses will be contacted for wide publicity of the drive. Hoardings posters and stickers will be printed and installed through the branches. A documentary based on appeals by Swami Satyamitranand Giri, Swami Chidanand ji, Swami Ram Deo ji. Dr. Pranav Pandya, Manniya Mohan Bhagwat ji. Health minister Shri J.P. Nadda ji is also planned to be prepared. This drive of BVP will be a humble contribution towards our Prime Minister's Health Mission.
Information about blood
1.       Blood is a red coloured liquid. It flows in human body amounts 5-6 liters.
2.       It contains plasma, red & white particles and platelets.
3.       Hemoglobin it is a substance in red particles that carries oxygen in the whole body. It ranges between 12.5-17 in human body.
4.       What is blood group: – A B O & AB are the blood group. It is also grouped in positive and negative. Group is matched at the time of 
transfusion.      
5.       One unit of blood contains 350-450 ml. according to weight and hemoglobin
6.       Blood can be preserved at 2-4 0C temperature for 35-42 days.
7.       It is required in accident cases, Anemia, pregnant ladies & operations.
8.       A healthy man of 18-65 years with 12 hemoglobin, and above 48 kg weight, can donate  blood.
 9.       Process of blood donation is completed within 30 minutes.
|10.   Donated blood is recovered in 48 hours.
11.   It is a holistic, selfless service and humble contentment to humanity.
Advantages of Blood Donation:
It checks the diseases like cancer
Blood liquidated to check heart attacks
It cannot be produced in laboratories
Blood cannot be manufactured. It can only be donated by human
Blood donation is safe, simple and four step process that takes around 30 minutes
One unit of blood can potentially save at least three lives
If you want to help other:  donate your blood.
Blood donation is a service to mankind
Share a little – care a little. Donate blood regularly
Execution of the blood donation drive:
The execution part of the drive will start to create awareness about the blood donation in higher education management and technical colleges and institutions. Hoarding, Sticker and handbills will be distributed, nukkad natak will be organized and a massive call for blood donation will be made
First blood donation camp will be organized on foundation day of BVP (9th or 10th July). A medical team should be arranged from hospital, medical colleges or blood banks. This camp will: (i) Receive blood from blood donor (ii) Register voluntary blood donors for data bank (iii) Test for blood grouping will be done. It may follow another camp after one month and so on. 
Health Department must be invited and permission should be sought from their medical officers.