Divyang Sahayata Kendra: Ahmedabad
Bharat Vikas Parishad Viklang Sahayata Kendra – Paldi , 
22, Basement  Jaydeep Tower, Near Dharnidhar Derasar,
Vasant Gagendragadkar  Over Bridge, Vasna,  Ahmedabad – 380007. Gujarat  
Phone: 079-26622257; Mob: 92270-00108; email: bvppaldi74@gmail.com; Website: www.bvppaldi.org 
Trust Reg. No. F/7458/ABD;  Society Reg. No. 7613/ABD ;    
Government of Gujarat – Director of Social Defence. Reg. No.853/14  
Artificial Limbs provided by the Kendra
| VIKLANG SAHAYATA KENDRA PALDI | Till Mar'22 | 2022-23 | Total |
| --- | --- | --- | --- |
| (a) At the Kendra itself  | 21,588 | 548 | 22,136 |
| (b) At camps organized by BVP branches branches  | | 127 | 127 |
| (c) At camps organized by organizations other than BVP | | 390 | 390 |
| Total | 21,588 | 1065 | 22,653 |
The Kendra has a fully equipped workshop with a qualified engineer and technicians for making Hi-Tech Prosthetics & Orthotics articles for the handicapped persons.


Tabibi Sadhan Seva Kendra
Kendra has been providing equipments to the needy patients for their use. Among others, Kendra has 40 Oxygen Concentrated Machines each costing Rs. 72,000.  DVT ( Deep Vein Thrombosis) Machine costing Rs/- 35000. Also have two Cold Storage Coffin Box. These all are given to the needy people at normal rent taking normal Deposit.
During the year 2022-23, 1938 patients were provided 2269 equipments for use at their homes.
Bharat Vikas Parishad Generic Medicine Stores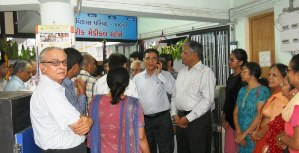 Bharat Vikas Parishad Generic Medicine Stores, maintained by Paldi Branch,  was inaugurated by BVP National President Shree Sitaram Pareek on 14th June 2014 where all type of A Grade Generic medicines are available at very cheaper rate. This project is a boon to the people, particularly those who have to take medicines for the life time.
Kendra opened second Generic Medicine Store in Naranpur area of Ahmedabad in June 2019.
During the year 2022-23, 38,591 patients obtained generic medicines.
The Centre is also conducting Computer Classes for Housewife & Senior Citizen to teach them basics of computer and accounting software.
Kendra provides ICU ambulance services from Gujarat to any other place in India. (Mob: 92270-00108)
During 2022-23, the ambulance  services were requisitioned on 293 occasions. In addition, during the year medicines and tiffin services were provided to 1,564 and 1,369 patients respectively in Dr. Jivraj Mehta Hospital.
Village Development Project
The Centre has adopted a village for providing them medical and other assistance. During the medical camps organised in the year 2022-23, 873 patients were provided treatment while 22 patients were provided nursing facilities.
Contacts: Dr. Paresh C. Parikh, MD – Phone:(M) 09825015442 (R) 079-26613403;
Er. Praful Velani – Phone: (M) 09227280522 (R) 079-26620353;
Shri Shaileshbhai Mehta (M: 9825135134) – Coordinator