Chandigarh Diagnostic Centre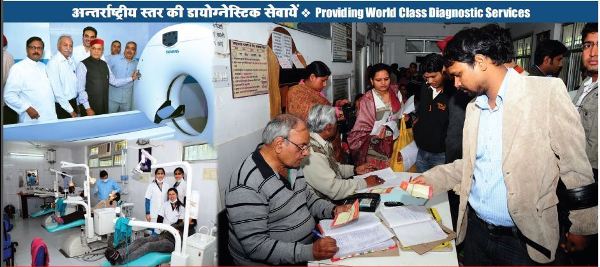 Bharat Vikas Parishad Charitable Diagnostic Centre, Chandigarh
The Diagnostic Centre had a very humble beginning in the year 1991 when facilities for simple hematological tests were established inside Indira Holiday Home in an abandoned 'toy Rail Station' room of 20'x10'. Since then the Centre has grown gradually into a full fledged diagnostic centre offering multifarious services under one roof.
Donations to the Trust are covered under 80 G of the Income Tax Act and the donors get tax benefit from such donations to the Trust.
PATHOLOGICAL LAB: The pathological laboratory is equipped with ultra modern Fully Automated Chemistry Analyzer which is the state of the art equipment. It can perform all clinical chemistry, special proteins, drug of abuse, therapeutic drugs & electrolytes related tests at remarkable speed and accuracy. The analyzer has also facility for testing of samples on priority in emergency situations and also for testing  from insignificant sample sizes as in cases of paediatric sample. The analyzer totally eliminates human intervention and therefore provides accurate test results.
Apart from this main equipment, the lab is also equipped with semi automated 3 strips Elisa reader, Humalyzer 2000, Laboratory Centrifuge, Serological water bath, Optima Microscope and Digital Photo Colorimeter.
The lab performed on a average 1300 (approx 100 different types)  tests on a daily basis during the year 2016-17, and 1,49,192 patients took benefit of the lab facilities.
CARDIAC CENTRE: The Centre is equipped with (1) LOGIQ 5 PRO Ultrasound system, with Convex Probe, Micro-convex Probe, Linear Probe and Sector Probe attachments/ accessories (2) Tread Mail Test equipment, (3) Defibrillator, (4) Spiro meter for Lung Function Test (5) 12 Channel fully automatic self reporting ECG machine, etc. The centre undertakes complete cardio vascular investigation and consultancy by highly qualified and experienced Cardiologist. A total of 3,827 patients took benefit of the facilities at the centre during 2016-17.
ULTRA-SOUND CENTRE: The Ultra Sound Centre is equipped with three Logic 200 Ultra sound machines with Convex Transducer for Abdomen, Obstetrics, Gynaecology, and Urology application and other support facilities which cater to almost 140 patents in a single day. During 2016-17 the Centre carried out 48,535 ultra sound examinations including Level I and Level II required by pregnant women and 112 colour Doppler tests.
X-RAY CENTRE: The X-ray Centre is equipped with 500Ma x-ray machine and Mammography machine for early detection of breast cancer among ladies. The x-ray output is fully digitized and therefore provides excellent and clear images for easy interpretation. During the year 2016-17, 31,120  x-rays  and 597mammography examinations were done.
DENTAL CARE CENTRE: The Dental Care Centre is equipped with three Dental Chairs for all types of dental treatment. The Centre also has Intra Oral Camera and RVG machine for instant dental x-rays. During the year 2016-17, 11,328 patients availed the services of the centre.
EYE CENTRE: The eye department is providing quality yet affordable eye care services.  Patients' registration, eye examination, prescriptions  etc. are  done on net worked computer systems. Facilities for stitch less cataract surgery   cornea transplant and many other anterior segment procedures are available. Special clinics for cornea, glaucoma, retina and low vision are also available.  Retina clinic is equipped with OCT and Lasers.  Additionally, a fully equipped Eye Bank, registered with the Ministry of Health, Govt. of India, is also functioning at the centre, since 2011.
OPD SERVICES:  The OPD is presently providing consultation for Gynecology, General Medicine, Orthopedic, Skin, Paediatric, Gastrointestinal, Ayurvedic and Homeopathic consultation and Prescription. Physio therapy facilities including Ceregam have been set up as part of the OPD services.
PROFESSIONAL EXPERTISE: The centre is manned by highly qualified Doctors and technicians with adequate support staff. The centre has three Radiologists (MD Radiology) one Pathologist (MD Pathology) One Cardiologist (DM-Cardiology) three Dental Surgeons (BDS) One Gynecologist, Two eye surgeons, (M.S. – Ophthalmology) and one Orthopedic Surgeon (MS- Ortho) and two MBBS doctors for general consultancy.
CHARGES FOR SERVICE: With all these facilities and highly qualified Doctors and technicians charges are based on 'no profit no loss basis' to serve the people of Chandigarh and surrounding areas. The charges works out to one third and in many cases even one fourth of the normal market rates.
FREE CLINICAL  SERVICES: We provide free services to old age home inmates, Inmates of Orphan age home, students of Navodaya Vidayalaya, Missionaries of Charity (Mother Teressa Home) children from school for the Blind Schools and Patients who cannot afford even our charges and are extremely poor.
OTHER ACTIVITIES OF THE CENTRE
Bharat Vikas Parishad Charitable Diagnostic Centre is managed by the Bharat Vikas Parishad Charitable Trust. The Trust, apart from managing the Centre, also helps needy and deserving students and families by undertaking following projects: 
FREE MEDICAL ASSISTANCE: 
Bitia Project: Under this project girl students of Government schools studying upto X standard, are issued identity cards through their schools, which entitles them for free medical services at the centre. So far, around 2000 girl students have been issued ID cards under the scheme.
The inmates of Old Age Home, Children adopted by NGO Theater Age, Pingalwara Society, Student of Budhist School and Navodaya Vidyalaya, are provided with free medical assistance by the centre. Under the Free Medical Service Scheme 3106 persons were benefitted in the year 2016-17 at a cost of Rs. 5,87,760 lakhs.
The Trust also undertakes the following further activities as permanent projects:
Saksharata: Under this project needy and Deserving students in Chandigarh schools are rendered help by providing Uniforms, Text books, Exercise Books, Fees, Shoes, Woolen Sweaters, etc. During the year approximately Rs.4.13 lakhs worth of aid was distributed.
Bal Vikas Kendras: The trust also runs Bal Vikas Kendras, where children from slum areas are provided facilities for doing their home work after school hours under supervision of a Teacher. This will, apart from arresting drop out from schools, also prevents these children from falling prey to social evils prevalent in their surroundings. Four such Bal Vikas Kendras are running in different areas of the city
Sewing Centre: The trust is also running one Tailoring centre, where young girls are trained in cutting, tailoring and embroidery work in order to empower them to earn their livelihood by undertaking these activities on their own, after training.
Updates:
Progress of the Trust can be measured in terms of patients who were provided various services at the centre. The number of patients served rose from 4,087 in 1997-98 to 4,29,800 lakh during 2017-18. During the year, the turnover of the Centre was Rs. 9.14 crore.  During the year 2017-18, the Centre collected 24 eye donations from Chandigarh and areas around and these have been transplanted to the patients in the Eye Hospital. The Centre has also started retina treatment and a sum of Rs. 1.05 lakh has been spent for their equipment.
PATIENTS BENEFITED OVER THE YEARS
Year        No of Patients Benefited
1997-98        4,087
2001-02      25,177
2006-07     98,810
2011-12    2,10,000
2012-13   2,45,000
2013-14   3,05,000
2014-15   3,55,000
2015-16   3,95,000
2016-17   4,14,000  
2017-18   4,29,800
2018-19   4,60,500