Bharat Ko Jano Competition: 2008-09
Eighth All India Bharat Ko Jano Competition
Eighth All India Bharat Ko Jano Competition was held at Fazilka (Punjab) on the 10th-11th January, 2009. A record number of 40 Prants sent their teams for participation in this Competition – Senior: 37 teams and Junior: 34 teams.
Dignitaries presiding over the function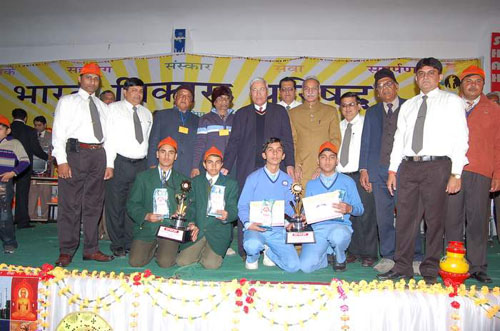 Winning teams with their prizes
Sardar Vikram Singh Majeethia, Information Minister, Government of Punjab was the Chief Guest at the function.
Following are the results of the competition:
Junior Category:
First: Saint Michael Higher Sec. School, (Satna Branch, Mahakaushal) – Anshu Gautam & Aakash Sharma
Second: B.B.Sarswati Shishu Mandir, (Varun Branch, Kanshi Pradesh) – Shubham Srivastav & Pratik Tiwari
Third: C. K. Mehta Vidyalaya (Palanpur Branch, Gujarat North) – Modh Deep & Gujjar Manaan
Senior Category:
First: Varun Public Sr. Sec. School (Jodhpur Marwar Branch, Rajasthan West) – Sandeep Bhandari & Mukand Soni
Second: Dashmesh Public School (Faridkot Branch, Punjab South) – Nikhil Mahajan & Saurabh Agarwal
Third: Guru Gobind Singh Pub School Chas (Bokaro South Br, Jharkhand) – Rishant Kumar Rai & Rahul Kumar Mishra
Following Prants obtaining first three places in "Largest Participants of students" contest were also felicitated:
First: Punjab North; Second: Rajasthan Central; Third: Avadh & Goraksh

Similarly, following Prants were facilitated for distributing maximum number of "Bharat Ko Jano" books: (1) Punjab East and (2) Rajasthan South.