Second Utkrishtata Samman
During its annual National Governing Board meeting held at Hyderabad on the 14th February, 2009, Bharat Vikas Parishad  had the privilege to honour Ekal Vidyalaya Foundation of India with its prestigious UTKRISHTATA SAMMAN 2007-08 for their excellent work in empowering TRIBAL and RURAL INDIA. Shri Vijay Maroo, President of the Foundation accepted the Samman. Shri Subhash Gupta, President of U.S. Chapter of Ekal Vidyalaya Foundation was also present. This year's field of selection was "Sewa".  Nominations received from all over the country were considered by the Selection Committee headed by former Chief  Justice Ramesh Chand Lahoti.  The Committee selected  Ekal  Vidyalaya Foundation of India for this year's  award.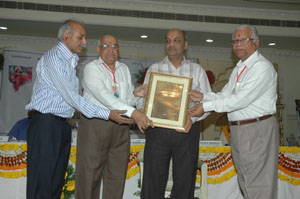 Shri Vijay Maroo, President, Ekal Vidyalaya Foundation of India receiving the Samman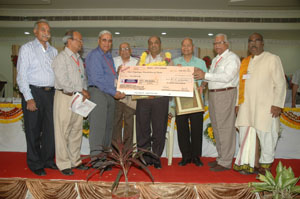 Shri R.P. Sharma and Shri I.D. Ojha National President and National Working President respectively handing over cheque
for Rs. One lakh to Shri Maroo


Shri Vijay Maroo delivering the acceptance speech
Standing between India's growth and her becoming a super power, which this country rightfully deserves, is illiteracy at the grass root level. Ekal's mission is to eradicate illiteracy from rural areas, particularly amongst tribals, so that the people here can have access to primary health, child-care, gainful self-employment and to empower them economically and socially. It is a vision that embraces integrity, determination and commitment with 26724 EKAL VIDYALAYAS spread all over India as on date. To spread the light of knowledge to the remotest far-flung corners of our country EKAL works in the fields of Basic education, Health Care education, Developmental education and Empowerment education.