Relief and Rehabilitation

जब-जब देश में प्राकृतिक एवं अन्य आपदायें आई भारत विकास परिषद् एक समर्पित समाज सेवी संस्था के रूप में अपने उत्तरदायित्वों का निर्वहन करने में अग्रगण्य रहा है। यह आपदाएँ चाहे बाढ़, अकाल, भूकम्प या अन्य किसी गम्भीर प्राकृतिक त्रासदी के रूप में हो या देश पर बाह्य आक्रमण हुआ हो, परिषद् के सदस्यों ने हमेशा स्वतः प्रेरणा के आधार पर आर्थिक सहायता के लिए अप्रत्याशित रूप से धन एकत्रित ही नहीं किया, वर्न स्वयं भी आपदाग्रस्त क्षेत्रों में जाकर राहत कार्यों में अपनी सक्रिय भूमिका निभाई है।
बाढ़ के समय में परिषद् की शाखाओं ने हमेशा उन क्षेत्रों में भोजन, कपड़े एवं औषधि वितरण का कार्य किया है तो भूकम्प के समय सामान्य राहत कार्यों के अतिरिक्त भवन निर्माण परियोजनाओं को भी लिया है। युद्ध के समय सैनिकों के लिए खून की पर्याप्त व्यवस्था सुनिश्चित की है तो उन क्षेत्रों में जाकर सैनिकों के मनोबल वृद्धि में भी अपना योगदान किया है।
ऐसी प्राकृतिक आपदाओं के लिए परिषद् का स्थायी कॉर्पस फण्ड बनाया गया है। जिसके अन्तर्गत 'विकास मित्र' और 'विकास रत्न' योजनाओं द्वारा कार्पस फण्ड की राशि पूर्णतः स्थायी रूप में राष्ट्रीयकृत बैंकों के पास जमा है और उसकी ब्याज से आपदा राहत कार्यों में सहयोग कार्य किया जा रहा है 
Whenever there is  calamity in any part of the country,  Bharat Vikas Parishad, as a humanitarian organization, has always come forward to provide relief and undertake various projects of reconstruction and rehabilitation.
2019 July - Flood Relief in Assam
Provinding relief to flood affected brethren in Jorhat and Dhubri (Assam)
2016 September - Flood Relief in Assam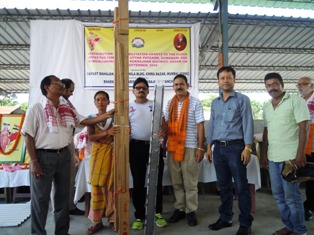 Kokrajhar Branch undertook relief and rehabilitation of 32 flood affected families of Kokrajhar District in the State of Assam. Affected families were given income generating items like bi-cycles, milk jars, weaving sets & yarns and also GCI sheets for building houses. 
2015 May - Earthquake in Nepal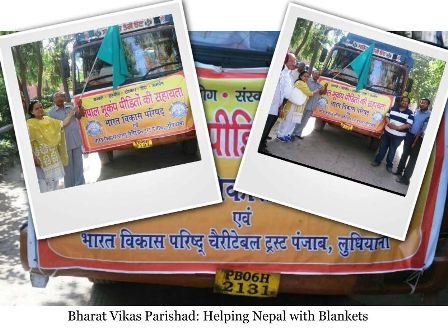 To help the victims of earthquake in Nepal, Parishad has decided to send blankets costing Rs. 20 lakhs as an immediate assistance. Shri Yash Paul Gupta, National Vice President of Bharat Vikas Parishad, flagged off truck carrying first lot of 5,000 blankets on 1st May, 2015 from Ludhiana as help for the victims of earthquake in Nepal. Second truck load of blankets followed next week. 
An appeal was issued by the National President to donate generously for sufferers of earthquake in Nepal. The Central Office released a sum of Rs. 68.11 lakh for relief work in Nepal, Orissa, Tamil Nadu, Uttrakhand West, Manipur and Haryana North. 
2015 February - Bodo Militants' Victims
In February, 2015, about 2190 people from 490 families of seven nearby villages viz. (1) West Maligaon Ceetantola (2)West Maligaon Ghutu tola (3)West Maligaon Talatola (4)West Maligaon JobeTola (5) West MaligaonLatar Tola (6)West Maligaon Rakha tola & (7) Paschim Maligaon were taken in a camp after losing their houses which were blazed by Bodo Militants. Bharat Vikas Parishad Kokrajhar branch organized free homeopathy Treatment & Baby foods (Cerelac , Biscuit etc). distributed among the ethnic violence effected people in West Maligaon Talatola Relief camp under Bismuri P.S about 45 K.M away from Kokrajhar,BTAD (Assam).
2014 - Heavy rainfall & landslides in Jammu & Kashmir
When in September 2014, heavy rainfall & landslides played havoc in Jammu & Kashmir, Parishad's members rushed to provide help.
2013 - Floods and landslides in Uttrakhand
In June 2013, when cloudburst caused devastating floods and landslides in Uttrakhand, Parishad rushed to help the suffering brethren. Parishad is now taking up a number of Permanent Projects in the state costing over Rupees one crore. Construction of school building cum community center/ shelter for pilgrims and affected persons at Gaucher in Uttrakhand has been taken up. 
In August 2010 cloudburst triggered flash floods and mudslides in Leh causing death of hundreds of people. It rendered thousands homeless and caused extensive damage to property and infrastructure, Bharat Vikas Parishad extended timely help to the affected brethren by constructing a six room school complete with furniture and uniform and books for the students. In addition, it distributed relief material and provided financial assistance to a number of victims.
लेह लदाख में सहायता कार्य की रिपोर्ट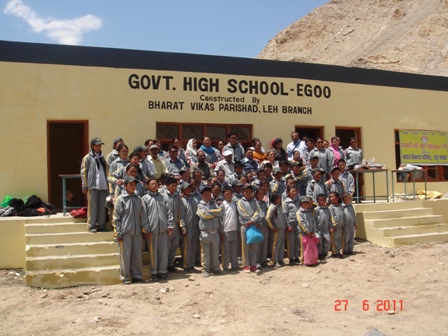 लदाख में बादलों के फटने से जो उस क्षेत्र में हानि हुई थी, उस में आप सब के सहयोग से लेह जिला के एगू नामक गावं में एक हाई स्कुल का निर्माण किया है. जो बन कर तेयार है. इस स्कुल को बच्चों को पढ़ाई करने के लिए इस वर्ष 27 जून को दे दिया है. आप के धन एवं सामान के सहयोग से इस स्कुल तथा दुसरे लोगों को निम्न सामान बांटा गया था: 
1. अगस्त 25-27 को लगभग 10 लाख का सामान जिस में गर्म कम्बल , गर्म स्वेटर्स , बिस्तर, कपढ़े तथा अन्य घरेलू प्रयोग का सामान था , बांटा गया था.
2. बाद में एक स्कुल जिस में 6 कमरे तथा उस के आगे 8′ का बरामदा बना है , इस को बना कर स्कुल के बच्चों दे दिया गया है 
3. स्कुल के 120 बच्चों को गर्म यूनीफार्म भी दी गयी है. 
4 . इस के अतिरिक्त स्कुल के बच्चों को बेंच , कुर्सिया, बलेक बोर्ड , चाक , बैठने के लिए टाट आदि सामान दिया गया था. 
5 . स्कुल के निर्माण के लिए एक मोहिन्द्रा की गाढ़ी भी लुधिआना से भेजी थी.
National Secretary General's visit to Leh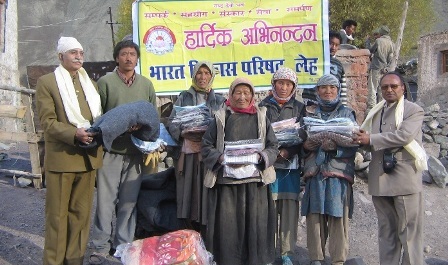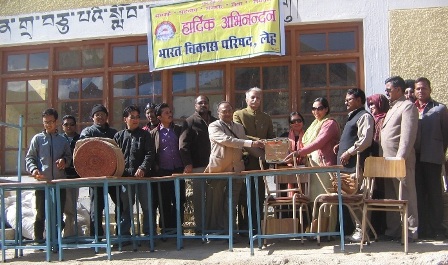 A brief of our visit to Leh – Ladakh 
I, along with Shri Yash Paul Gupta, National Secy. Gram Basti Vikas, left Delhi by Air for Leh on 11th Oct. 2010. On our arrival at the Airport at 7-45 AM we were received by Shri Munish and Shri Tashi. We were advised to take rest for a couple of hours at Hotel Laserno..
At 3 pm we went to meet CEO at Civil Hospital. During the course of our discussion he wanted the Parishad to set up a Dispensary at Leh for the benefit of its people. Later it was decided to open a BVP Branch at Leh and take steps for the construction of Egoo School.
On 12th Oct we stepped out for Egoo School alongwith Dr. Anil and Dy. CEO. On our way we saw many damaged buildings and the school also that was shown in the film '3 Idiots'. Sindhu Darshan Palace also bore the brunt of nature. This is the same palace from where Sindhu Darshan was started by the Central Govt. under the leadership of ex. Prime Minister AB Vajpayee.
On reaching Egoo School we had a meeting with the Principal and Staff. Since the BVP offered to construct some rooms and a multipurpose hall, the necessary Bhoomi Pujan was performed by the LAMA. We handed over 10 Tables, 10 Chairs, 3 Tat Bundles, blackboard, warm undergarments for students, teachers and local residents. This gesture was highly appreciated.
Thereafter we visited two villages where seven houses were being constructed. Here we handed over a cheque for Rs. 2 Lacs and relief material i.e. blankets, cloth, solar lights etc. etc. Now it was the turn of shopkeepers whose shops were damaged. An assistance  ranging  from  Rs. 8000/-  to  Rs. 20,000/- per shop was given to them by cheque.
At 8 pm installation ceremony of a new branch of BVP at Leh was arranged attended by 15 members and some invitees. Lapel pins and BVP literature was given to members. National Secretary General apprised them about the Sanskar and Sewa activities of BVP. Three Office Bearers were nominated to run the branch.
On 13th we met the DM and discussed about relief work. We visited Solar colony where 16 marla land was allotted by the Govt. to a Society at Ladakh to start a Hospital. Bhartiya Vidya Niketan School and Hall of Fame were other important places that we visited in our last leg of journey. Much is needed to be done for our brethren of that area. BVP is committed for that venture. 
 – S.K. Wadhwa, National Secretary General 
2009: Floods in Andhra Pradesh, Karnataka and Maharashtra
During 2009, states of Andhra Pradesh, Karnataka and Maharashtra were badly affected by floods. Our branches extended their best possible help to the flood affected brethren by providing food, clothes and medicines etc. Funds were also released by the Central Office to supplement the efforts of the Prants for providing relief and rehabilitation to the affected brethren. 
2008: Floods in Bihar and Assam
During 2007, Assam reeled under devastating floods. Bharat Vikas Parishad, Assam Prant  extended its best possible help to the flood effected brethren by providing food, clothes & medicines etc.
2006: Floods in Gujarat and and Rajasthan
Our branches in Gujarat and Rajasthan did excellent work for immediate relief and rehabilitation of affected brethren.
2004: Tsunami in Southern Parts of the Country
When Tsunami struck the southern parts of the country in December, 2004, Bharat Vikas Parishad's branches swung into action to provide medicines, food and shelters to the affected brethren in Andhra Pradesh, Kerala, Tamil Nadu and Pondicherry. The Parishad also undertook construction of community centres in five coastal villages  three in Tamil Nadu and one each in Andhra Pradesh and Kerala. In all, the Parishad's total contribution for  exceeded rupees one crore.
2003: Draught in Rajasthan
2001: Earthquake in Gujarat
A severe earthquake, which rocked Gujarat on 26th January, 2001 and left thousands dead or seriously injured. Among the injured, there were about 5,000 persons who needed artificial limbs. Bharat Vikas Parishad contributed its mite in reconstruction of devastated villages and rehabilitation of earthquake victims and providing artificial limbs to handicapped persons. A sum of Rs. 1.89 crores was contributed in cash by Bharat Vikas Parishad.
Parishad organised blood donation camps for the jawans on a large scale.
1993: Earthquake in Latur (Maharashtra)
1988: Floods in Punjab and Gujarat