Profiles of Some the Past Elected Office Bearers

Shri Pradyumna Kumar Jain – National Vice President (Central) (April, 2014 to March 2018)
Born : 10th March 1951. After graduating in Sc. Maths, he completed CAIIB (both parts) during his service in Bank. He took V.R.S. from Bank of Baroda in 2006. 
He has been active in social and cultural activities from his school days. He was President of Govt. College Baran during his studies. He was active in A.B.V.P. and also held various state level Dayitva in RSS.
He joined Bharat Vikas Parishad in year 1989 and in the same year opened its first branch in Kota. Thereafter he held various posts in Rajasthan, M.P. & Chhattisgarh where he mainly worked for organisation and expansion. He also worked in North East Region for one year and visited Assam, Tripura, Meghalaya, West Bengal, Orissa, Bihar and Jharkhand.
During 2014-18, he worked as National Vice President (Central) and also Vice President of Bharat Vikas Parishad Hospital, Kota and President of Madhav Nursing College, Kota.

Shri N. Doulatha Rao, National Vice President (South) – (April, 2014 to March 2018)
N. Doulath Rao, B.Sc., CAIIB, Diploma in TD. Diploma in Labour Law, Diploma in Proficiency in Counselling
Born:  13th November,1952. Joined Canara Bank after graduation and after 25 years of service opted voluntary retirement in the year 2001. He worked as Manager Management Information Planning and Development Section and also as an Internal Auditor of the Bank. He has worked in association with various Socio-Cultural  Organizations for the last 25 years holding key positions such as Chairman, B.K. Hostel, Governor Bhavsar Vision India, Trustee and Chairman, Mahalakshmi Mandir Management Committee etc,. 
He has great passion for teaching and keen interest in the field of education. He was the School Correspondent of B.K High School Primary and Nursery Sections. He has been guest Faculty at All India Institute of Local Self-Govt. for the last 15 years. He was the Regional Director Bangalore Centre of  the Institute for two terms. He has presented religious discourses at number of Temples and religious places in English, Kannada and Marati attracting  large number of devotees. Recently, after being trained as Profossional Counseller, has opened a Counselling Center and also offer free counselling at Bhavasar Kshatriya Samaj twice a week to the needy persons.
Joined Bharat Vikas Parishad in the year 1986 as founder Secretary of Madurai branch. He has worked for the Bharat Vikas Parishad in various capacities as State Joint Secretary, State Treasurer, State President, Zonal Chairman, National Secretary, National Organizing Secretary and National Additional Secretary general. He is past National Chairman Yuva Sabhagithva and also working as Vice-Chairman BVP Charitable Trust Benagaluru. During 2014-18, he worked as National Vice President Bharat Vikas Parishad.   
His wife Smt. Kantha Doulath Rao is also an active member of BVP.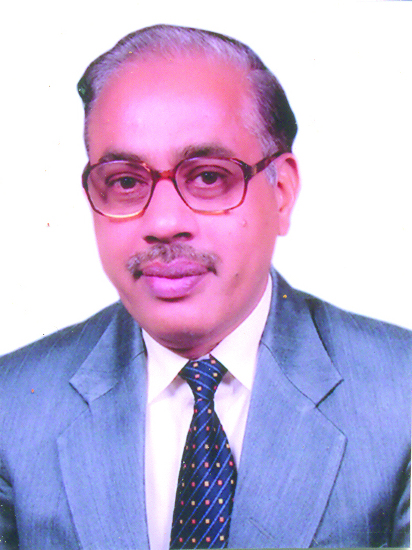 Dr. Kanhaiya Lal Gupta, National Secretary General (April 2014 to Jan 2015)
Born : 25th December, 1948. He had a brilliant academic career and topped Agra University in B.Com. (1965), M.Com. (1967) and M.A. (Eco.) in 1970. He was awarded the Degree of Ph.D. in Commerce in 1978 and D.Litt. in Business Administration in 1993. He has 47 years experience to his credit of teaching Degree & P.G. classes in Commerce and Management (including Shri Ram College of Commerce, Delhi University). He also worked as Principal of S.V. College, Aligarh; Dean, Faculty of Commerce, Agra University and Director, School of Management, IIMT, Aligarh. He authored about 38 books and so far 31 research scholars have obtained the Degree of Ph.D. under his able supervision. He was also Patron of two reputed international Journals, namely 'Asian Journal of Research in Social Science & Humanities' and 'Asian Journal of Research in Business Economics and Management'.

Justice (Retd.) Vishnu Sadashiv Kokje, National President (April, 2012 to March 2014)
Born at village Dahi Tehsil Kukshi, District Dhar (MP) on 06th September 1939. Secondary Education  Anand High School Dhar. Graduated in Mathematics, Statistics and Economics from Holkar College, Indore, 1961. LL. B from Govt. Arts & Commerce College, Indore, 1963. M.A. (Sociology) from Christian College, Indore. Started Law Practice in 1964 after enrolling with the Bar Council of Madhya Pradesh. Practiced for 26 years specialising in Labour & Industrial Law, Company Law, Civil Laws, Election Petitions, Writ Petitions etc. Appointed Judge, Madhya Pradesh High Court on 28th July 1990, worked as President, M.P. State Consumer Disputes redressal Commission in addition to duties as Judge of the High Court in 1992-94. Transferred to Rajasthan High Court in April 1994. Worked as Administrative Judge of Rajasthan High Court for 4 years. Acting Chief Justice of Rajasthan High Court for over 11 months. Retired from Rajasthan High Court on 5th September 2001. Chaired the Commission of Enquiry into the death of Muni Lokendra Vijay up to 31st July 2002. 
Appointed Governor of Himachal Pradesh on 8th May 2003. Laid down office of Governor on 19th July 2008. 

At present engaged in social work along with practice as Senior Advocate, Supreme Court of India. All India President of Bharat Vikas Parishad, New Delhi  from April, 2012 to March 2014.  All India Vice President of Forum of Integrated National Security, Mumbai.

Prof. Satya Prakash Tiwari, National Working President (April, 2012 to March 2014)
Born: 30th May,1941. Prof. Satya Prakash Tiwari is UGC Emeritus Fellow at Department of Physics Panjab University, Chandigarh. He is internationally known for his contributions to Transition Metal Physics. He was born and brought up in village Barauli, District Mainpuri in Uttar Pradesh. He obtained B.Sc. degree from Agra University and M.Sc. and D. Phil. degrees, from Allahabad University. 

He has been Professor and Head of the Department of Physics and Dean Science Faculty at Punjab University Chandigarh, Research Fellow at Australian National University, Canberra, Chercheur Associe at CNRS, France; visiting Professor/Visiting Scientist at ESPCI and Universite Paris VI, University of Duisburg, Germany, ICTP Trieste, Italy, AERE Harwell, UK, Bell Laboratories and Oak Ridge National Laboratory USA. He has been Vice-Chancellor of Jiwaji University, Gwalior and recipient of several awards including Burse Joliot Curie, France, Higher Education and Development Award, New Delhi, Lifetime Achievement Award ITDC and Membership, Kendriya Hindi Samiti, Rajbhasha Vibhag, Govt. of India. 
He published 5 Review articles and more than 200 original research papers in internationally reputed journals. He authored the book "Dynamics of Transition Metals and Alloys" (Nova Sc. Pub. Inc. N.Y. 1998) and Edited: (1) "Advances in Statistical Physics of Solids and Liquids" (John Wiley, N.Y. 1990) (2) "Disordered Materials", (Narosa Pub., New Delhi, 2003) and (3) "Vision for Science Education in India: Physicists Views" (DK Publishers New Delhi 2012). 

Worked as National Working President of the Parishad from April, 2012 to March 2014.

Shri Ravindra Pal Sharma, National President (April, 2008 to March 2012) 
Born on 8th July,1938. He  graduated as Engineer in Telecommunications and did his post graduation in Business Administration. Joined Department of Telephones as ASDE and retired in 1998 as Director, Telecom (Govt. of India). Nation-wide PCO facility could become possible by his sincere efforts and farsightedness.
Joined Bharat Vikas Parishad Parivar in 1984 and remained Organising Secretary – Maharashtra State for five years. He was also All India Additional Secretary General. Working full time, he was National Secretary General from 2000 to 2004 and National Working President from 2004 to 2008. National President from April, 2008 to March 2012.

Shri Ishwar Datt Ojha, National Working President (April, 2008 to March 2012)
Born: 25th June,1940. He had schooling at Samrala (Punjab). Thereafter, studied at Anglo-Sanskrit P.G. College, Khanna (Punjab). Took active part in extracurricular activities & sports throughout, winning several prizes. Retired as Under-Secretary from the University Grants Commission, New Delhi. Widely travelled he possesses a rich experience of various cultures of Indian and foreign soils.

Joined the Parishad in the year 1983 as Founder Secretary, Janakpuri Branch, New Delhi. Worked in various capacities at Delhi State level including three terms as General Secretary. During 2000-02 and again 2002-04 was assigned the responsibility of National Secretary (Sanskar Projects) and National Addl. Secretary General respectively. During 2004-08, he served the organisation as its National Secretary General as full-timer for the Parishad. National Working President from April, 2008 to March 2012.