(Report in English also follows the Hindi text)
जम्मू : भारत विकास परिषद की ओर से आयोजित भारत को जानो उत्तर क्षेत्रीय प्रश्नोत्तरी प्रतियोगिता के सीनियर वर्ग में हरियाणा साउथ और जूनियर वर्ग में पंजाब साउथ की टीमें विजेता रहीं। प्रतियोगिता में उत्तर क्षेत्र की 17 प्रांतों की 34 टीमों ने भाग लिया जिनमें सीनियर वर्ग में पंजाब वेस्ट दूसरे और दिल्ली बेस्ट तीसरे जबकि जूनियर वर्ग में हरियाणा वेस्ट दूसरे और दिल्ली सेंटर तीसरे स्थान पर रही।
आयोजन अभिनव थियेटर जम्मू में किया गया। इसमें उपराज्यपाल के सलाहकार फारूक खान मुख्य अतिथि, एडीशनल इन्कम टैक्स ऑफिसर एसके शर्मा विशेष मेहमान थे। इसके अलावा प्रतियोगिता में भारत विकास परिषद जम्मू कश्मीर की प्रधान अमिता शर्मा, महासचिव तारा चंद टग्गर और वित्त सचिव शिव राम शर्मा भी मौजूद थे। 
इस प्रतियोगिता में बच्चों को देश के बारे में सवाल पूछे गए। सही जबाव देने वाली टीमों को विजेता चुना गया। परिषद के जम्मू कश्मीर वित्त सचिव शिव राम शर्मा ने बताया कि इसमें विभिन्न प्रांतों के स्कूलों की टीमों ने भाग लिया है। उत्तर क्षेत्रीय प्रतियोगिता तक पहुंचने से पहले बच्चों को अपने स्कूल, फिर प्रांत में विजय हासिल करनी पड़ती है। अपने प्रांत में प्रथम आने वाली टीमों को क्षेत्रीय प्रतियोगिता में भाग लेने का मौका मिलता है और क्षेत्रीय प्रतियोगिता की विजेता टीमें राष्ट्रीय स्तर पर जाएंगी। परिषद के देश भर में 9 क्षेत्र हैं और उन क्षेत्रों की टीमें भुवनेश्वर में 19 जनवरी को आयोजित होने वाली राष्ट्रीय प्रतियोगिता में भाग लेंगी। वहां की विजेता टीम नेशनल चैंपियन बनेगी। वहीं सलाहकार फारूक खान ने भी इस प्रतियोगिता के आयोजन पर परिषद की सराहना की। उनका कहना था कि इससे बच्चों को देश के प्रति जानकारी मिलती है और उनमें राष्ट्रीय भावना पैदा होती है।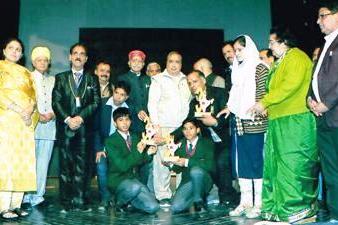 JAMMU: Bharat Vikas Parishad (BVP) J&K Prant on Wednesday conducted a quiz competition Bharat Ko Jano here at Abhinav Threatre.
S K Sharma, Commissioner Income Tax Jammu and Farooq Khan, Advisor to Lt Governor were the Chief Guests for morning and evening session respectively. Dr Tarun Sharma, National Chairman; Sushil Sharma, National Secretary; Daya Sagar Sharma, Vikram Randhawa, Ex-MLC; Ved Prakash Sharma, President Brahman Sabha; Anil Gupta and Radhika Sharma, social workers and Ashok Gupta, Director ASL Tutorials were the Guests of Honour. Ajay Dutta, National Secretary and S K Wadhwa, National Vice President presided over the function. The programme commenced with lighting of traditional lamp followed by Vande Matram. T C Taggar, General Secretary and Arun Sharma, Regional Secretary conducting the proceedings of the programme while Amita Sharma, President BVP J&K presented welcome address.
A total of 17 teams in junior category and equal number of teams in senior category from Delhi, Punjab, Haryana, Chandigarh, Himachal Pradesh and J&K participated in the competition but only six teams in each category qualified for final stage of the competition.
In Junior category, Punjab (South) bagged first position where as second and third positions were secured by Haryana South & Delhi (Central). In Senior category Haryana (South) bagged first position followed by Punjab (West) & Delhi (West) which got second and third positions respectively.
Farooq Khan and S K Sharma lauded Bharat Vikas Parishad for involving youth through such competitions for overall development of younger generations. They also appreciated the role of the organization in developing Sanskars among children.
The Quiz competition was conducted by experienced Quiz master including Dr Tarun Sharma, Ashok Choudhary, Sandeep Watts, Bharat Bhushan Juneja, Lalit Chopra, Vijay Rohella and Jyotsna Sharma.
Others present on the occasion included Dev Raj Sharma National Secretary; Dr Santosh Gupta, Manoj Rattan, Gopal Sharma, Shiv Ram Sharma, Suman Kant, Vijay Sharma, Madhu Gupta, Vanita Kohli, Narinder Mishra, R K Sahu, Bhupal Datta, Bharat Bhushan Sharma, Gopal Gupta and Jagjit Singh Isher. A number of students and teachers from various schools and citizens from various walks of life witnessed the competition.
Sushil Sharma, National Secretary, informed that winner teams in both the categories will now participate at Bhuvneshwar in national-level competition. Vote of thanks was presented by Dev Raj Sharma. This first-ever Regional-level Bharat Ko Jano fully computerised competition was conducted by J&K Prant with active cooperation of technical team from Punjab and Haryana.