Divyang Sahayata Kendra: Ahmedabad
Bharat Vikas Parishad Viklang Sahayata Kendra – Paldi , 
22, Basement  Jaydeep Tower, Near Dharnidhar Derasar,
Vasant Gagendragadkar  Over Bridge, Vasna,  Ahmedabad – 380007. Gujarat  
Phone: 079-26622257; Mob: 92270-00108; email: bvppaldi74@gmail.com; Website: www.bvppaldi.org 
Trust Reg. No. F/7458/ABD;  Society Reg. No. 7613/ABD ;    
Government of Gujarat – Director of Social Defence. Reg. No.853/14  
Artificial Limbs provided by the Kendra
| VIKLANG SAHAYATA KENDRA PALDI | Till Mar'17 | 2017-18 | Total |
| --- | --- | --- | --- |
| (a) At the Kendra itself  | 8182 | 746 | 8928 |
| (b) At camps organised by BVP branches  | 8382 | 474 | 8856 |
| (c) At camps organised by organisations other than BVP | 824 | 0 | 824 |
| Total | 17388 | 1220 | 18608 |
| Details of Aids provided | | | |
| Hearing Aids | 575 | 106 | 681 |
| Calipers | 3292 | 128 | 3420 |
| Tricycle | 732 | 73 | 805 |
| Crutches | 4143 | 100 | 4243 |
| Wheel Chairs | 35 | 17 | 52 |
| Surgical Boot | 572 | 24 | 596 |
| Walkers | 204 | 8 | 212 |
| Sticks | 615 | | 615 |
The Kendra has a fully equipped workshop with a qualified engineer and technicians for making Hi-Tech Prosthetics & Orthotics articles for the handicapped persons. Kendra also has 25 Oxygen Concentrated Machines each costing Rs. 72,000.
Bharat Vikas Parishad Generic Medicine Stores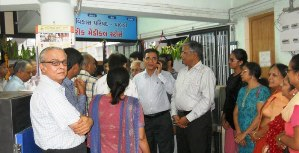 Bharat Vikas Parishad Generic Medicine Stores, maintained by Paldi Branch,  was inaugurated by BVP National President Shree Sitaram Pareek on 14th June 2014 where all type of A Grade Generic medicines are available at very cheaper rate. This project is a boon to the people, particularly those who have to take medicines for the life time. During 2016-17, generic medicines worth Rs 28 lakhs were sold.
The Centre is also conducting Computer Classes for Housewife & Senior Citizen to teach them basics of computer and accounting softwares.
Kendra provides ICU ambulance services from Gujarat to any other place in India. (Mob: 92270-00108)
Contacts: Dr. Paresh Parikh, MD – Phone:(M)09825015442(R) 079-26613403; Er. Praful Velani – Phone: (M) 09227280522(R) 079-26620353; Er. Shailesh D. Mehta – Phone: (M)9825135134( R)079-26463217,
ER. Upendra H. Jani – Phone: (M)9374253631( R)079-26607078